Faculty:
Carl DiSalvo, Janet Murray
Conversations with employees and volunteers at the Proctor Creek Stewardship Council in Atlanta, GA revealed that contamination in urban creeks is a major problem. This is especially an issue when neighborhoods sit along sections of the creek that get contaminated and dumped in.
Most often, this happens in lower-income neighborhoods where many residents are unaware of trash/recycling guidelines, the local government doesn't feel accountable for the residents, and local businesses view the area as grounds for dumping. This creates a dangerous cycle where the water gets contaminated and sewer drains get clogged, leading to flooding, the flooding leads to mold and asbestos in homes, and the next time homes flood, the mold, and asbestos goes back into the creek water. The creek, therefore, becomes a health and safety hazard.
With the simulation, interactors learn what they can do in the real world to help solve this problem by taking on the role of a resident in a low-income urban neighborhood along a contaminated creek. Through the replayable simulation, they realize what types of events (with varying levels of control) occur in the neighborhood and how their choices impact the creek's cleanliness and the community.
Lab: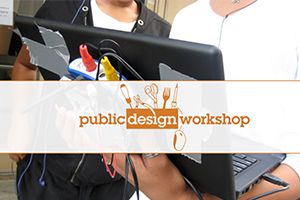 The Public Design Workshop is pedagogical structure created to explore new ways to teach, learn, and do social design within the university. We explore how design contributes to the construction of publics, articulates contemporary social and political issues, and fosters new forms of engagement with technology. We do this through participatory workshops & events, speculative design, and theory & criticism. We design events, workshops, objects, and systems. We also do theory and criticism.We are always open to new collaborators.Current topics of interest include: food and food systems, hackathons, infrastructure, visualizations, tools, and maps.