Students:
Yugvir Parhar, Vidushi Jain, Taylor Bunge
Our project aims to tackle the problem of social isolation and food insecurity amongst the older adult population. It explores service models that provide regular, nutritious meals and boost opportunities for social connection at the same time.
Our project aims to work with DoorDash to make access to meals more equitable and accessible to older adults as well as explore ways of reducing social isolation through regular delivery services that aid Instrumental Activities of Daily Living (IADLs).
Lab: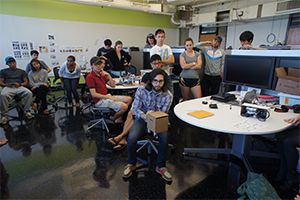 Faculty:
Richard Henneman, Carrie Bruce
Students in Georgia Tech's interdisciplinary MS in Human-Computer Interaction program do multiple group class projects, and a capstone individual project. Some projects are presented as part of other labs listed here; others are showcased in the MS-HCI Project Lab.
The two-year program spans four schools: Industrial Design; Interactive Computing; Literature, Media and Communications (Digital Media Program); and Psychology. Approximately 50 new students enroll each fall semester.