Faculty:
Richard Henneman, Carrie Bruce
Students:
Yi Qin, Autumn Pressley, Claudia Chu, Kallie Shook
Our project works in collaboration with Pumpkin, a pet health insurance company, to support cat owners in caring for their cats' health. Compared to dogs, there's a significant gap in the frequency of veterinary visits for cats. Our research seeks to understand how cat owners recognize and respond to their cats being unwell and cat owners' relationships with the veterinarian. Using this research, we aim to identify core problems that we can solve through the design process.
Lab: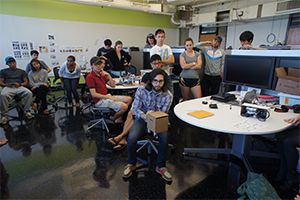 Faculty:
Richard Henneman, Carrie Bruce
Students in Georgia Tech's interdisciplinary MS in Human-Computer Interaction program do multiple group class projects, and a capstone individual project. Some projects are presented as part of other labs listed here; others are showcased in the MS-HCI Project Lab.
The two-year program spans four schools: Industrial Design; Interactive Computing; Literature, Media and Communications (Digital Media Program); and Psychology. Approximately 50 new students enroll each fall semester.