Students:
Ricky Yu, Sea Wu, Edward Zhang, Charlie Denton
Under the cover of night, the player infiltrates the palace of a despotic ruler.
Your mission: Steal a prized sword without being caught by a guard.
Trespass invites players to step into the shoes of an archetypal ninja and play through a thrilling interactive vignette of Japanese history. The story is based in part on historical accounts of the life of Ishikawa Goemon, a well-known ninja of the 16th century. Our intention in building Trespass is to explore how players respond to spatial barriers in the virtual world. By utilizing HTC Vive and Unity, Trespass will immerse the player in grand digital rooms and subtle performances of stealth. Additionally, the game takes advantage of the affordances of VR by allowing players to physically walk around digital spaces that are "folded" to fit within the boundaries of a much smaller physical room.
Lab: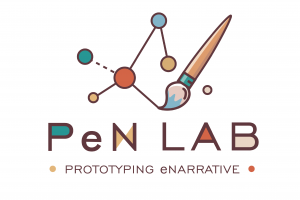 The Prototyping eNarrative Lab (PeN Lab) at Georgia Tech applies digital information design and interaction design principles to digital storytelling to create more complex and expressive narratives, focusing on emerging platforms like experimental television, virtual reality, and augmented reality, and on the intersection of storytelling with game design and simulation design.