This project will focus on the impact of typeface identification to facilitate the visual design process. It will help identify the issues that hinder designer's creativity, provide support for their acquisition of inspirations and relieve them from organizing collectibles, design artifacts. The expected prototype will reflect the mental model for typeface categorization, and make a designer's workflow smooth and enjoyable.
Lab: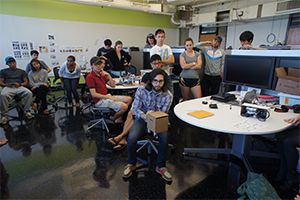 Faculty:
Richard Henneman, Carrie Bruce
Students in Georgia Tech's interdisciplinary MS in Human-Computer Interaction program do multiple group class projects, and a capstone individual project. Some projects are presented as part of other labs listed here; others are showcased in the MS-HCI Project Lab.
The two-year program spans four schools: Industrial Design; Interactive Computing; Literature, Media and Communications (Digital Media Program); and Psychology. Approximately 50 new students enroll each fall semester.