GVU Summer Travels
Catcades in the Windy City, Strolls in Central Park, 75th Anniv. of D-Day, and More
by Joshua Preston | Sept. 10, 2019
Five weeks into fall semester, summer will officially end on Sept. 23. While the calendar and temperature still proclaim the season in session, we're pulling out our summer travelers' guide to see where the GVU community ventured across the globe. Discover the many destinations of our students, faculty, and staff in our interactive map (click on the image below). Read about four of these adventurers who shared some of their highlights and how their experiences impacted them:
Courtney Allen @ Grubhub | Darsh Thakkar @ UPS | Alyssa Rumsey coast to coast | Sam Harvey @ Google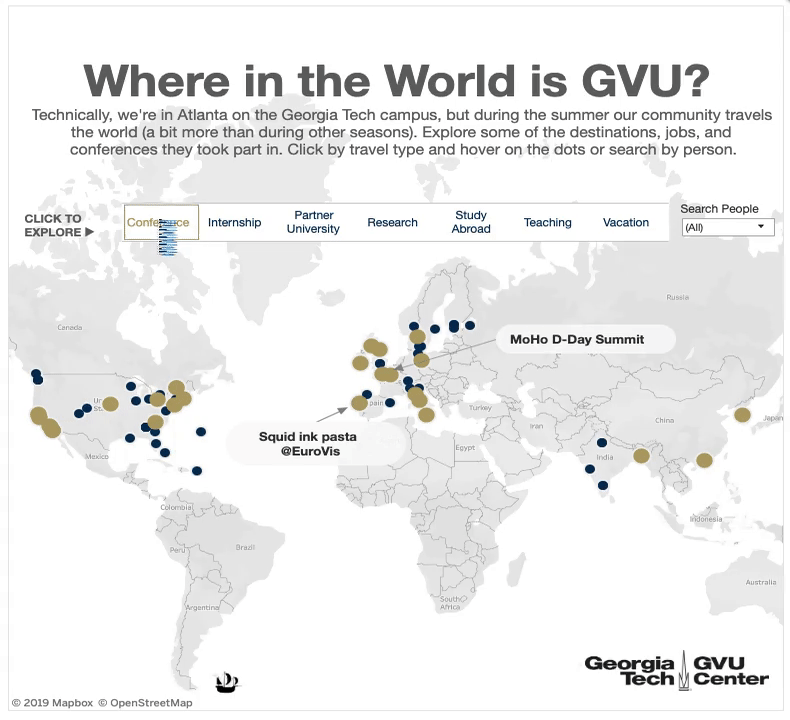 INTERNSHIP | Allen Enters the Booming Food Delivery App Scene
Courtney Allen, a Master of Science student in Human-Computer Interaction and avid cook, spent more time eating out this summer than she probably has in the past few years, thanks in part to her internship as a user experience (UX) researcher at Grubhub, the online food ordering and delivery service for restaurant cuisine. Working from the company's headquarters in Chicago, Allen spent part of her time doing ride-alongs in the Windy City with the drivers who made deliveries to diners' homes.
Allen quizzed the drivers during the rides and learned the nuances of how these workers in the gig economy used the Grubhub app. Unsurprisingly, having to do less navigating on the app while driving and getting relevant notifications on the road topped the drivers' wish lists.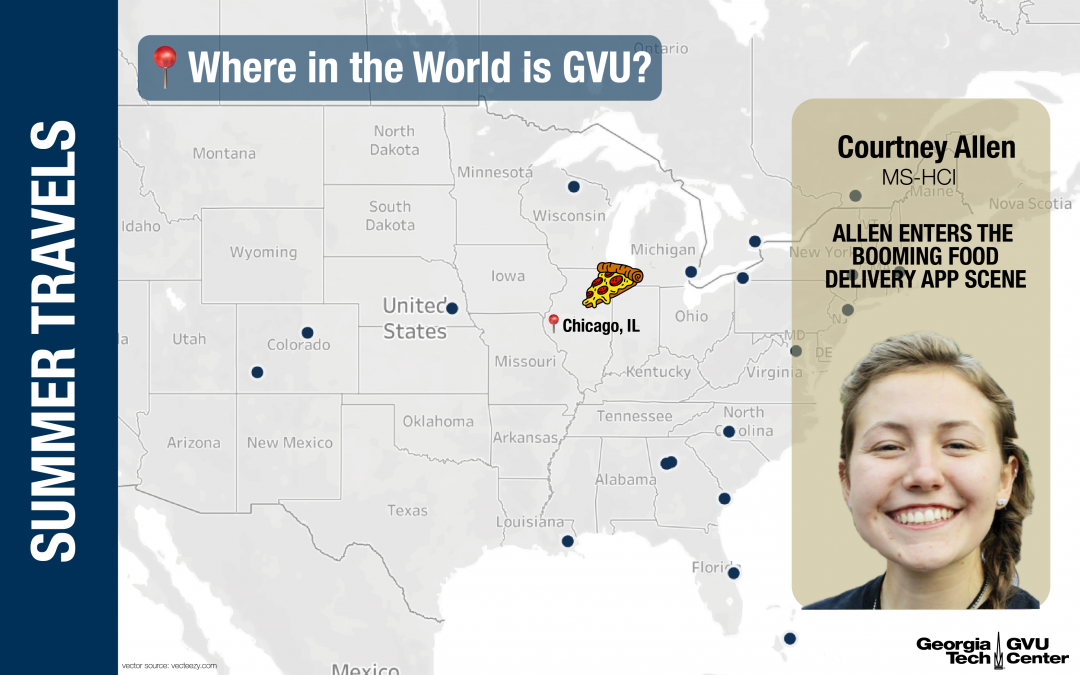 One of the high points of Allen's internship happened soon after she started. Working with her "grub buddy" mentor, she went through a few hundred messages that drivers wrote to customers via the app. She identified trends and categorized the themes. The result: she created a new set of auto responses drivers could use to let customers know where dinner was.
Allen was thrilled to learn the company plans to use the work in a future app update. So instead of drivers having to write out "restaurant still preparing order" or "stuck in traffic", they can just tap and send.
Allen's travel advice: "Go see Lake Michigan. It looks like an ocean. It's shocking to see the first time. Check out the Barcades – bars and arcades combined. I played pinball and had my favorite drink. The best spot was the Catcade – you can have a kitten nestled in your lap while playing Mario Kart or Galaga."
INTERNSHIP | Thakkar Goes Inside UPS's Technology Operation
Darsh Thakkar, a Master of Science student in Human-Computer Interaction, didn't go far from campus this summer to experience one of the world's largest logistics operations. A short trip on MARTA took him to the United Parcel Service's (UPS) global headquarters in Atlanta for a 11 1/2-week internship as part of the company's Advanced Technology Group.
"I was surprised about the tech the company was using," Thakkar said. "UPS is known for its logistics, not technology. But they had this fully integrated smart hub for processing packages. Everything was automated, and it was very impressive."
Thakkar's group focused on data modeling, and he created a visual analytics system for network data to help other UPS teams better understand their logistics operations.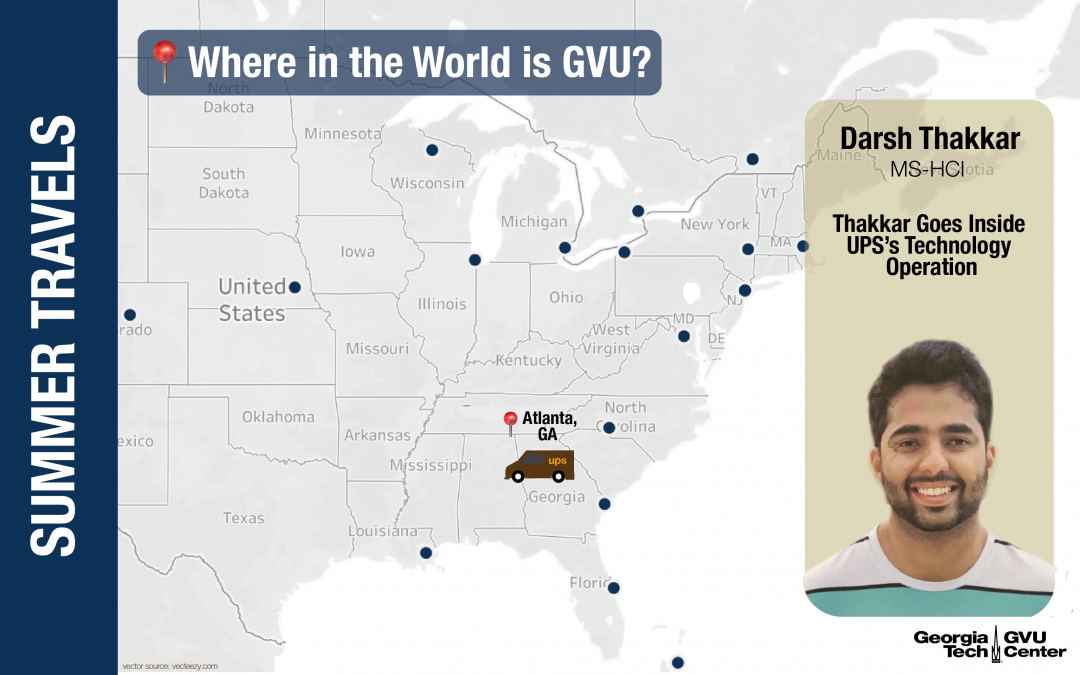 "I got to be part of the whole product lifecycle, which was an extremely valuable experience," Thakkar said.
Thakkar created the prototype and, through a bit of good luck, was on the same team with fellow classmate Jordan Chen, who did user studies.
Thakkar and his team's biggest achievement came when the "client" using his prototype requested some finishing touches on the system so it could be integrated and deployed for network planners whose work affects UPS domestic operations.
"It gave me a taste of everything – user experience (UX) research, design, engineering, visual analytics. It was great industry experience that gave me a sense that I want to continue with UX engineering and visual analytics."
Thakkar was also mentored by one of UPS's lead data scientists, Mallory Freeman, PhD ISyE 14, whose TED talks are essential viewing, according to Thakkar, and give a sense of her influence in the logistics industry.
"I learned from her that I have to get work done without creating difficulties for myself or others," Thakkar said. "There will be inevitable clashes, but you learn how to manage those."
He learned a big part of user experience research and design is about having an open-ended conversation where there is disagreement.
Thakkar is ready to capitalize on his industry experience in his final year in the MS-HCI program. He's already excelling in one respect – Thakkar was recently named a finalist in the GVU Graduate Student Awards Program, which represents the top Georgia Tech students in people-centered computing affiliated with the GVU Center.
CONFERENCES | Rumsey Explores the Growing Gig Economy
A decade ago "uber" was just a synonym for "very," but now many people identify the word with the company employing some 3 million workers, the majority of which are drivers for Uber's ride-hailing (and food delivery) services around the globe. The emergence of a gig economy, of which Uber has become the poster child, and how technology has fueled this new work was a focus of the Human Computer Interaction Consortium (HCIC) Conference this summer.
Set in Monterey Bay, Calif., the conference allowed Alyssa Rumsey, Ph.D. student in Digital Media, and other participants the chance to examine the future of work while surrounded by beaches and bonfires. They dug deep into what jobs might look like in the near future and new jobs that have rapidly shaped into career options.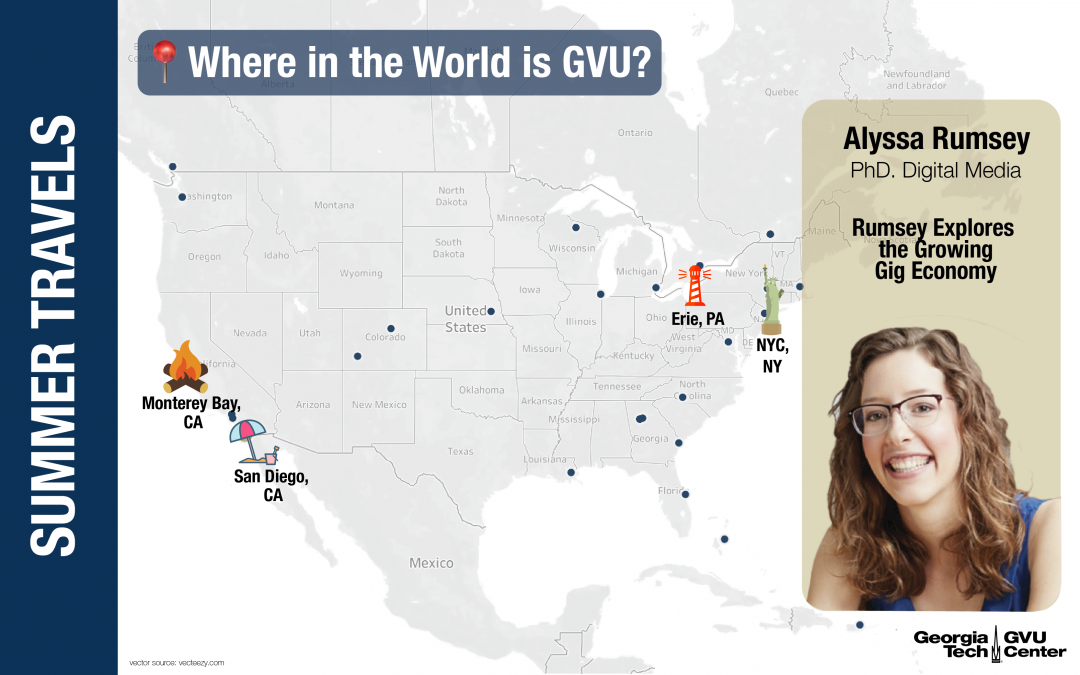 "The gig economy was a new way for me to look at work," said Rumsey. "My focus has been on blue collar and manufacturing jobs, which are sometimes slow to adopt tech. But gig workers rely on technology, which is enabling these gigs to be a career option for some people, along with new delivery platforms and business models."
The concept of cobbling together work, what that looks like for gig workers, benefits or lack-there-of, and economic uncertainty in the gig economy were some topics on the beach.
"Being aware of these issues as we design technology is important for us as HCI researchers because the technology is a large driver in shaping these jobs."
Later in the summer as students migrated back to campus, Rumsey could be found taking strolls through Central Park in NYC to the WAIM Convergence Conference. The gathering dealt with some weighty topics including the AI elephant in the room - artificial intelligence and its impact on jobs.
A big takeaway: "We talk a lot about AI and its potential, but AI is not as prolific as it might seem. It's not everywhere and before we get to that stage, we can be deliberate about creating an equitable and ethical approach to this technology and the future of work."
INTERNSHIP | The Google Job That Almost Wasn't

(and how only the best ideas survive at the search giant)
Sam Harvey, a Master of Science student in Human-Computer Interaction, was presented with possibly a once-in-a-lifetime opportunity to work on a major product at Google, but one thing stood in his way – he didn't have an online portfolio.
A recruiter sent an email looking for his website, prompting Harvey to produce one in two days flat. It helped him secure an internship in Zurich, Switzerland, working on Google Flights, a part of the online travel-planning tool Google Travel.
"When designing, I might think of grandparents who want to fly out to visit their grandchildren. How do I help them?
"What I'm designing can either make the experience easier or harder," Harvey said. "Imagine making something that will ruin the day for a million grandmothers. I don't want to do that."
Analyzing Google's unmatched volume of user data is helping Harvey, who is still interning, to identify some of the most vexing problems in online flight planning. He lets the information he gathers marinate on his brain for a long time, then starts sketching out on paper as many solutions as possible.
"Three percent of the ideas are gonna make it out of the furnace," he jokes, referring to the process where team members kindly discard the concepts that don't pass muster.
What survives undergoes even closer scrutiny, and the intensity of the process leaves only those product designs that might work well as part of a sprawling Google ecosystem operating around the clock.
"This place is conducive to making some awesome stuff and not making people feel small," he said. "My favorite part of being here is being pushed every day and striving to be a contributing member. I'd recommend coming to Google just for the growth potential."
Harvey mentions the benefit of Georgia Tech's MS-HCI program, the guidance of program director Dick Henneman, and how these both prepared him for Google. Taking the summer job delayed graduation for him, but Harvey is OK with this, realizing that this rare opportunity will shape the rest of his career. FULL STORY