Students:
Kristin Hare, Jayanth Krihsna, Akhil Oswal, William Gao,Fengrui (ChenChen) Zou; Previous: Youssef Asaad, Alex Kim, Reema Upadhyaya
No matter what age we are, we have likely forgotten to turn off the stove or oven, iron, heater or even water. Forgetfulness can lead to serious events that may result in costly damage to the home or even injury or death. Older adults are more prone to such forgetfulness. When an older adult forgets to turn off a hazardous appliance, it is often attributed to losing mental capacity and may lead to loss of self-confidence, embarrassment, and judgment from others. Many families turn to monitoring when they discover such hazards, but this can result in their loved one feeling a loss of independence. We feel there is an opportunity before monitoring to use technology to provide gentle reminders or cues that empower the resident to determine for themselves when such appliances should be turned off.
To this end, we have performed in-home contextual interviews, designed prototypes of possible solutions, and performed Aware Home interviews and prototype evaluations with older adult participants to understand their needs for notifications and preferences for alert (audible and visual). As we envision it, an ambient alert system should consist of several ambient and/or wearable reminder products that would integrate with existing connected home systems and provide those gentle reminders both at and away from the primary hazard.
Lab: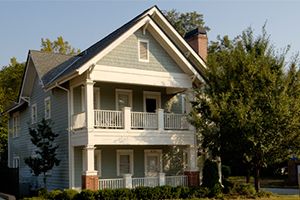 Students:
Graduate: Adviti Atluri, Avery Ao; Undergraduate: Ana Herrera, Aditya Kabu, Matthew Perry, Shayar Shah
Generally, people spend a good amount of time in their home performing everyday activities like: sleeping, eating, cooking, relaxing, entertaining, and so on; thus, it comes as no surprise that the home plays a key role in our health, lifestyle, and well-being. The Aware Home Research Initiative (AHRI) at Georgia Institute of Technology is an interdisciplinary research endeavor aimed at addressing the fundamental technical, design, and social challenges for people in a home setting. Central to this research is the Aware Home, a 3-story, 5040 square foot facility designed to facilitate research, while providing an authentic home environment. Research domains include: 1. Health and Well-being, 2. Sustainability, 3. Entertainment, 4. Connected Living / Home Management.