Students:
Joshua Crisp, Rhiannan Starr Berry, Anaya Patel, Bianca Guerreo, Destini Deinde-Smith, Rachel Huang, Yuri Ahn
One of the most promising aspects of augmented reality is its ability to display localized content - content that is only available at certain locations or that changes depending on the location in which it is viewed. For this reason, it can be easy to overlook the medium's utility in providing non-localized content. In order to explore the non-locative potential of augmented reality, this project uses AR in conjunction with motion capture technology to create stories that are not location specific. These stories, which often focus on elucidating abstract concepts, are designed to be fully immersive while existing in whatever location the users inhabits while watching them. These stories are then combined into a single interface, which allows the user to switch between them as if they were channels on a television.
Lab: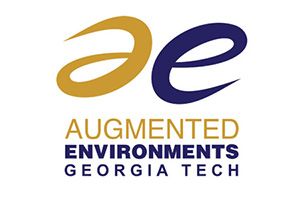 Faculty:
Jay Bolter, Blair MacIntyre
Students:
Jisu Park, So-youn Jang, Hector Fan, Watson Hartsoe, Mudra Nagda, Namit Kapoor
Lab activities focus on understanding how to build interactive computing environments that directly augment a user's senses with computer-generated material. Researchers are interested in augmenting the user's perception, and place particular emphasis on the interaction between the users and their environment.