Students:
William Gao, Jayanth Krishna
In 2014, Flextronics (now Flex) came to Georgia Tech with an interest in integrating and testing devices in our authentic home environment (The Aware Home). They were at a stage in their development of the Wink Hub where they needed a home environment to test ranges and reliability, as well as show clients how their products would integrate into a home environment. The Wink Hub is now available as a Do It Yourself solutions for the connected home, enabling transfer of messages between in-home devices and the Wink cloud. Devices from different manufacturers with their own dedicated app could now be integrated with the Wink app to provide a more connected consumer experience e.g. locking the front door lock could trigger light switches to turn off and blinds to close. During this early phase, Georgia Tech students helped with testing the Wink Hub in various locations around the Aware Home to ensure the reliability of adding, removing and controlling devices. Since this time, Flex has continued to expand their expertise in designing and manufacturing connected home/living products.
Aware Home researchers have collaborated with Flex to consider the future of the connected home environment and helped to educate their clients on how connected living solutions with greater data intelligence could improve the lives of residents, including solutions that targeted at energy resource management, independence, health and home management.
Lab: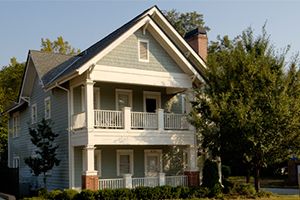 Students:
Graduate: Nandita Gupta, Avinandan Basu; Undergraduate: Mitchell Philipp, Victor Perez
Generally, people spend a good amount of time in their home performing everyday activities like: sleeping, eating, cooking, relaxing, entertaining, and so on; thus, it comes as no surprise that the home plays a key role in our health, lifestyle, and well-being. The Aware Home Research Initiative (AHRI) at Georgia Institute of Technology is an interdisciplinary research endeavor aimed at addressing the fundamental technical, design, and social challenges for people in a home setting. Central to this research is the Aware Home, a 3-story, 5040 square foot facility designed to facilitate research, while providing an authentic home environment. Research domains include: 1. Health and Well-being, 2. Sustainability, 3. Entertainment, 4. Connected Living / Home Management.